Etsy is a wonderful resource where consumers can find quirky items and unique gifts not available from major brands. However, with so many like-minded sellers competing for attention, it can be hard to tap into consumer trends and get ahead. You need to understand current trends and how to use them in your product listings. This is where you need an effective Etsy Trends tool to help you out.
Why Use A Top Etsy Trends Tool?
Search terms on Etsy are a goldmine of information that can make a big difference in how you market products and reach your target audience. Simply put, Etsy trends are the words and phrases most commonly typed into that search bar. These are the types and styles of products that are the biggest trends at that moment. The problem is that with so many categories and shoppers online, and trends changing so rapidly, it can be difficult to follow trends on Etsy manually.
That is where an Etsy Trends tool can help. This system will carry out all the hard work and decipher the best trends and keywords to focus on. You can then use this information for your store. You can use the results to add trending Etsy tags to your own products and ride that wave. Or, you could use these trends to adapt product lines and provide high-demand items.
For example, you might use the Etsy Trends tool and find a trend for birthstone jewelry or stones in a particular color. You can then lean into that with your tags and promotions.
Improve Traffic And Sales By Discovering Etsy Trends.
Ultimately, a tool like this is a time-saver for all those looking to build a profitable Etsy store with increased visitors. With the right trends and keywords tagged onto your product pages, you can outrank the competition with ease.
This works in three phases. First, you notice your products perform better in search rankings due to those effective Etsy tags and strong trends. This then increases visibility, allowing shoppers to find your goods with ease. This increased visibility and traffic to your Etsy store can result in more sales and profits.
Find The Best Etsy Trends To Get Ahead Of The Competition.
Using an Esty Trends tool to determine the best keywords and tags might sound simple, but it can be highly effective. So, use the tool today and see how it can improve your visibility and sales while pushing you beyond your competitors.
Identifying Etsy Trends with TopBubbleIndex
The TopBubbleIndex Etsy Trends tool list the popular keywords that are getting major attention right now on Etsy.
Maybe you're at a place where you're stuck and don't know what to sell? I'm going to share with you the most important market research technique that is the most effective and proven way to get some sales on Etsy by using Etsy's search bar.
So when you go to Etsy.com and you see that search bar at the very top? it is going to have so much information on there for you. When you click the search bar you're gonna see it's gonna auto-populate underneath with a bunch of things that people are typing in, things that are trending, and popular things. All those items on there that you see give you an idea of what's trending.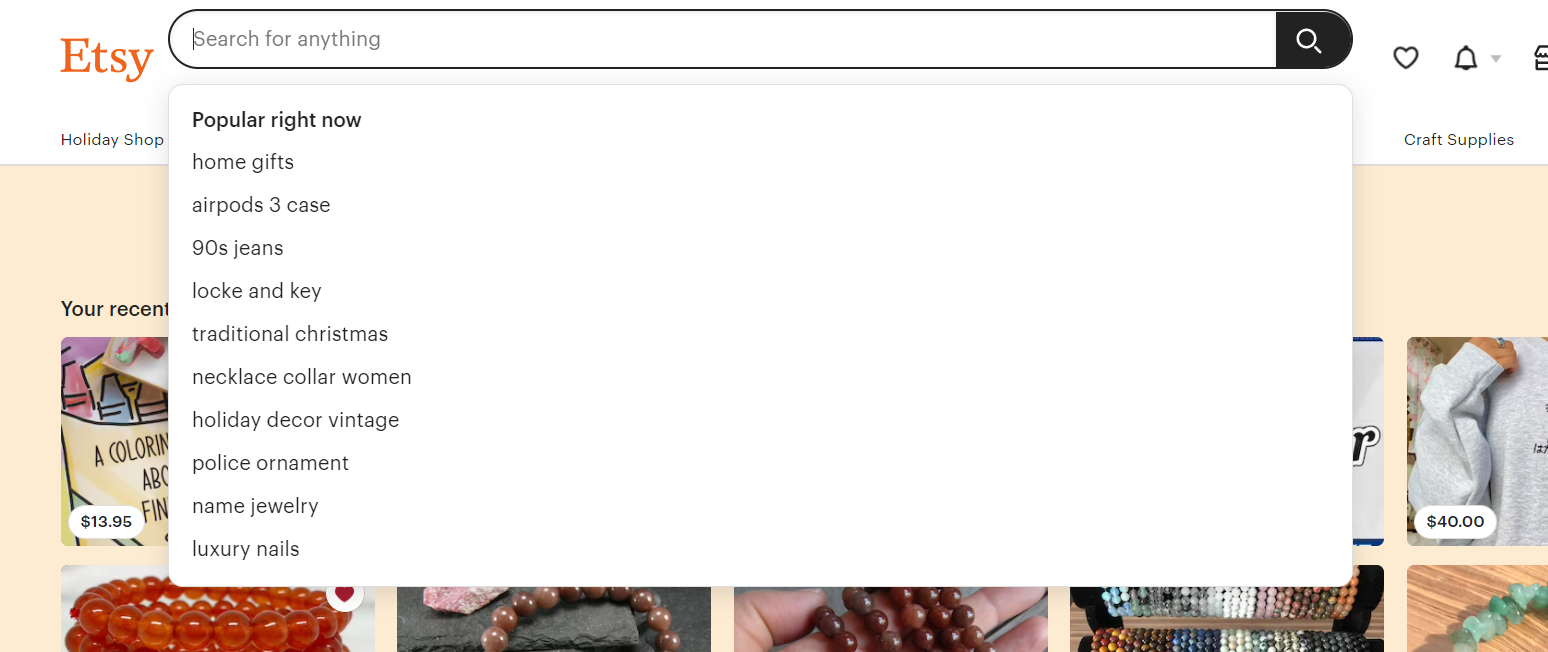 I've collected all of these and gathered the additional important information per keyword like the number of views, favorites, average price, competition, and put them all down below for you to analyze. I hope you will find this tool helpful.
Benefits of using Etsy Trends Finder by Topbubbleindex
You can use it for Free, even without account. You don't need to pay anything or create an account. It means you will not be required to give your credit card information or email address. All you need to do is go to the Etsy Trends Keywords Finder Tool and use it! It's super simple, easy to use, and free. If you feel like you want to show your support to Topbubbleindex we accept donations to keep running the tool seamlessly.
Copy or Export to Excel the Keywords Accordingly
Have you ever struggled to collect keywords for your print on demand business by hand? If you answered yes, you should be aware of the importance of 'the ability to copy or export the keywords.' You can also hand-pick them from your research. You can copy just the keywords you want or all of them. You may also save them as to your PC. This is a CSV file. Then you'll be able to utilize it whenever you want. In a matter of seconds, you'll be able to download the useful keywords.
Other Free Tools Offered by Topbubbleindex
Our mission at Topbubbleindex is to provide all print-on-demand digital marketing tools for free forever. Therefore, if you enjoy using Topbubbleindex tools, it's a good idea to check out other great tools as well.
And still counting! If you're still not impressed, try the Topbubbleindex tools for free. Don't hesitate to contact us for suggestions, complaints, or just feedback. We are always working on to keep the Topbubbleindex better.