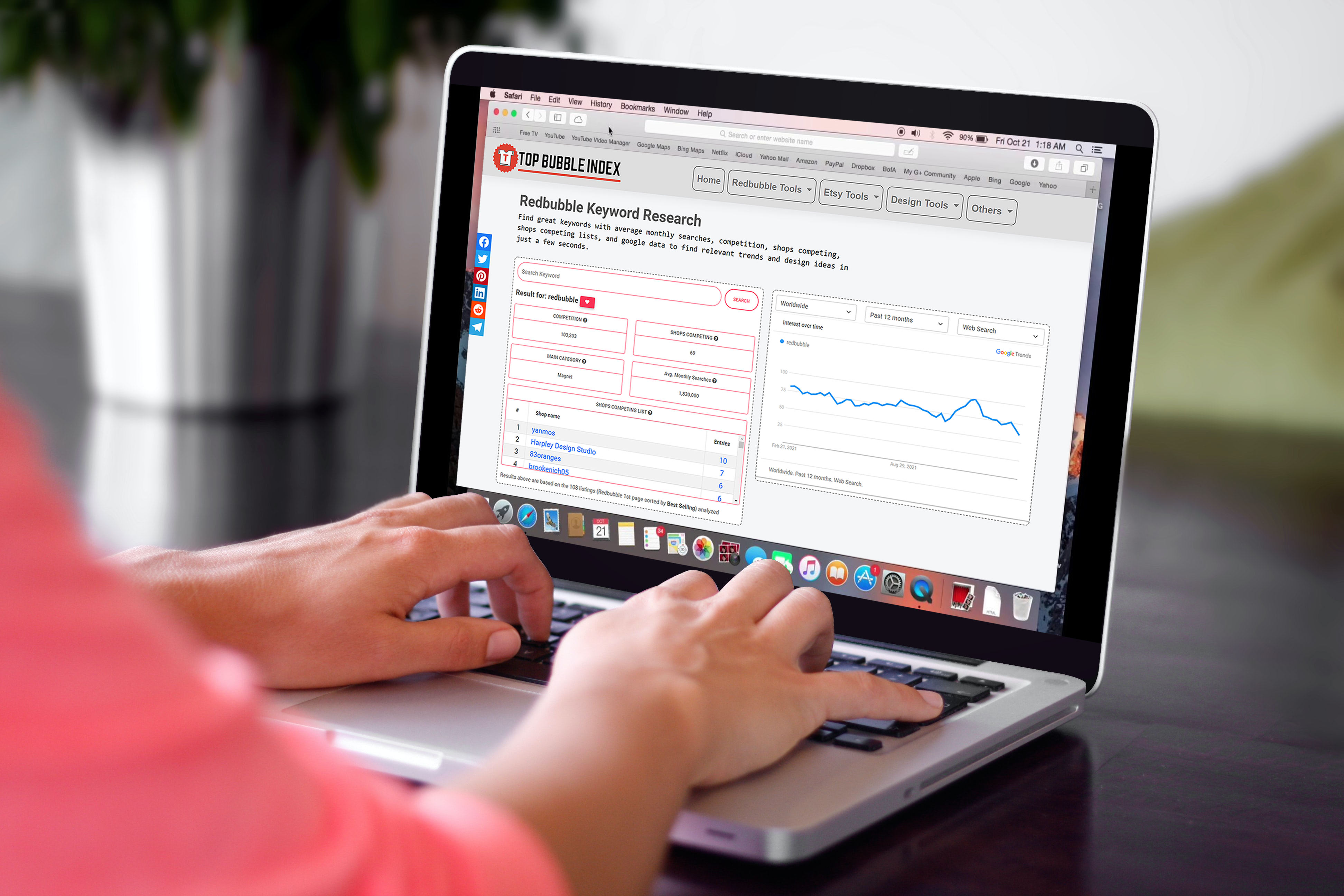 Run A Successful Print On Demand Business Online
We provide free and helpful SEO, Digital Marketing, and Automation tools on the internet to boost your print-on-demand business.
---
100M+ Keywords Analyzed, 500K+ Generated Tags, 5K+ Removed image background and generated portrait. Level up your print on demand game. Join Topbubbleindex now - for free!
Register
---
About Topbubbleindex
Keyword Research Tool
Find great keywords with average monthly searches, competition and more.. Our tool also uses Google Trends to generate lists of Related Queries, Related Topics, Google Autocomplete, and Google Daily Search Trends related to any topic in any niche.
Tags Generator Tool
With proper tags, you can bring your artworks to the top of search results on Redbubble and search engines like Google.
Image Background Remover
Quickly remove the background from your images without sacrificing quality.
Blogs
Remain updated on all print on demand related topics and news with Topbubbleindex blogs.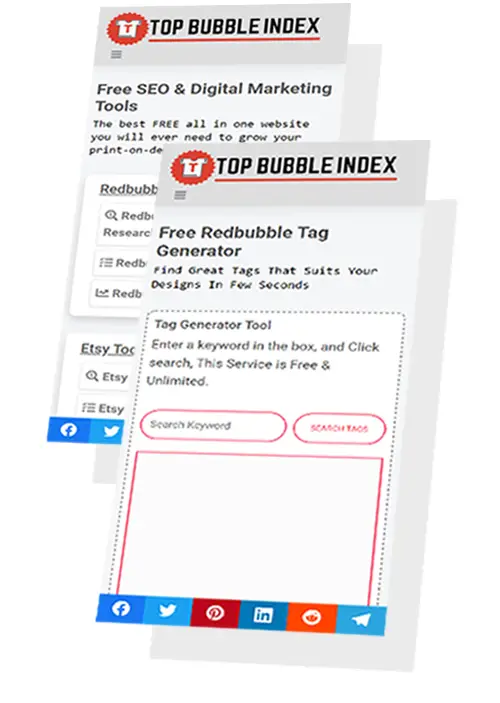 Design Editor Tool
No need for paid, expensive, hard-to-figure-out software to make your Redbubble designs, You can choose on our wide variety of features from the text editor to image editor to DYNAMICALLY generate designs.
Trending Keyword Finder
Need inspiration? We've collected an impressive collections of relevant, trending and best selling keywords to get ideas from.
Image Portrait Generator
Quickly generate image portrait from your images with impressive visuals.
Calendar Holidays
Browse Official, Unofficial, Funny, Random, and Weird Holidays to find great design ideas.
---
Not enough?
Redbubble automation
Thanks to Topbubbleindex Redbubble Automation Tool you can take advantage of the power of automation to save time and improve productive.
Easy to use
We give you detailed user-friendly interface. It will help you work efficiently and implement your designs easily.
Lots of tutorials
We care about the upload process of our users. We have prepared numerous tutorials, which allow you to learn how to use Topbubbleindex as well as other technologies.
Watch our "Redbubble Automation Tool" tutorial
---
...and even more
Cross-browser compatibility
Chrome, Firefox, IE, Safari, Opera, Microsoft Edge - We loves all browsers; all browsers love Topbubbleindex.
Frequent updates
Topbubbleindex becomes better every month. We love the project and enhance as much as possible.
Technical support
We care about reliability and your concerns. If you have any questions - do not hesitate to contact us.
Cross-platform compatibility
Topbubbleindex Automation software is compatible with both Windows and Mac operating systems.