Zazzle is an online store that allows designers as well as consumers to develop customizable iPhone cases, coffee mugs, stationery, clothing, and more. This platform mostly serves the younger generation, and has partnered with numerous businesses to provide access to an extensive catalog of millions of items.
Zazzle overview
Zazzle was established in 1999, and has experienced significant expansion since its 2005 debut because of its on-demand business concept. Each item is manufactured only after a customer places an order for it, which eliminates unnecessary stockpiling and maximizes efficiency.
Unlike the retail approach, in which stock is typically produced well in advance of peak buying periods. As a result, businesses and customers alike can benefit from customized goods without having to commit to large quantities at once. In this day and age, it has become the "leading personalized products marketplace," where fans of all kinds can come together to produce one-of-a-kind merchandise to share and celebrate their passions.
Since its inception, when it just offered posters and t-shirts, Zazzle claims to have carried over 300 million distinct products. By improving their creative materials and photography, they aim to attract and convert site visitors with striking graphics. To further appeal to millennials, they also use real-time marketing based on trending themes and content to highlight these topics prominently on their site.
Customers' online searches, which rank Zazzle highly in search engine results and product listing ads, are the platform's most effective form of advertising. In addition, the company does experiments with social display ads, mostly on Facebook and Instagram, where it uploads and shares high-quality images of its distinctive items.
What You Can Do on Zazzle?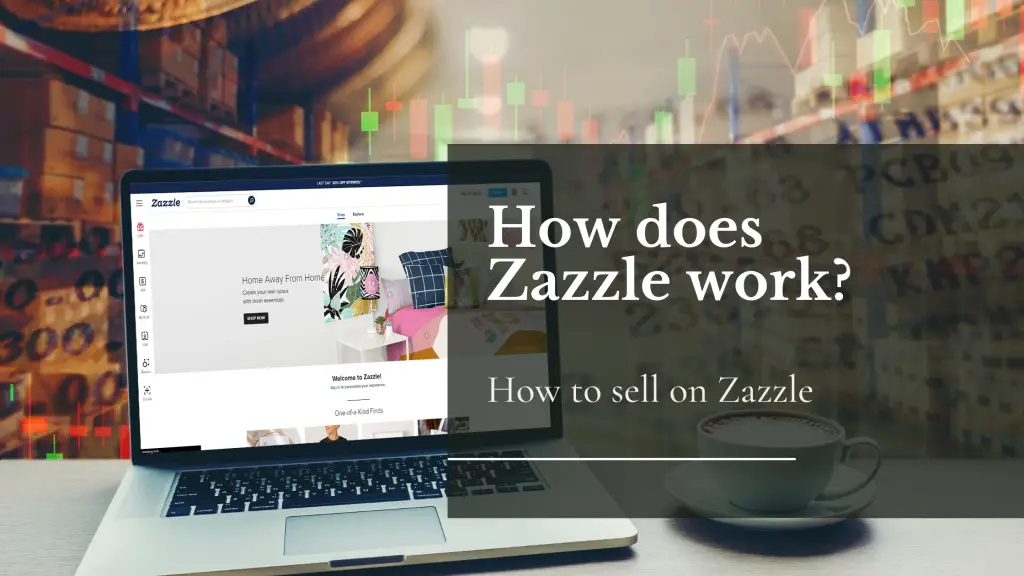 Zazzle is a platform that allows you to easily print your customized products, such as greeting cards, t-shirts, and other apparel, from the comfort of your own home. Zazzle is a popular online marketplace for personalized products that allows you to upload digital images of your designs together with text.
This program is designed to be used by the average person, as it features a user-friendly interface. Because of this, it is a prime candidate for digital printing and embroidered retail product decorating.
In addition to buying and selling from other users on Zazzle, you can open your storefront and sell your creations directly to customers.
How does Zazzle work?
Zazzle makes it simple to both sell things and upload designs. It's easy for both buyers and sellers to utilize. Overall, the app is more intuitive, with features that explain themselves and help users quickly locate the appropriate resources. Zazzle's user interface makes it simple to create your first item.
In order to become a Designer, Maker, or Affiliate, you need only register. When you sign up for a service, you'll need to provide certain personal details.
The features accessible to you are different for each account type. It's a straightforward creative process to be involved in. To sell your designs on Zazzle, you must first upload them to the site, then choose the product types on which you want them printed.
Zazzle will take care of production, printing, and shipping. A "maker," on the other hand, is someone who makes their own products to sell on Zazzle. But you'll have to handle production and distribution on your own.
And finally, when you become an affiliate for Zazzle, you will earn a percentage on all sales made through your link.
How to sell on Zazzle
Zazzle is, without a doubt, one of the most popular online print-on-demand marketplaces. All customers may rest assured that this company is legitimate thanks to the fact that they sell officially licensed stuff from major brands like Disney, DC Comics, and others.
Zazzle's website may seem disorganized at first glance due to a large number of buttons and links, but the site's structure and labeling make it easy to go about.
To become a Maker, Designer, or Affiliate, click the "Sell on Zazzle" option in the top right corner. This method is straightforward and requires little effort.

If you are wondering how to make money on Zazzle, they offer three distinct avenues for making money through the sale of products:

• In order to make money as a designer, you should sign up and upload your designs to be sold on multiple goods.

• Sell items you've made yourself,

• All you have to do to earn money is promote other people's goods using your affiliate link.
Is Zazzle legit?
Zazzle, which was founded in 2005, is a legal POD provider. In addition to being one of the earliest POD providers, Zazzle has also made steady strides in the areas of pricing, product catalog, product quality, and customer service. Users have provided very positive feedback about Zazzle on review platforms like Trustpilot.
In short, is Zazzle trustworthy? the answer is: Yes.
Companies who offer authorization to sell their brands do not often want to be linked with hazardous websites or merchants;
hence, Zazzle would not be able to sell as many well-known brands and licensed products if they were not authentic.
Is Zazzle safe?
You are not alone in questioning whether or not it is safe to utilize Zazzle. Many potential customers shop online, yet they have security concerns about the company's website.
Though there are several techniques to assess security, many people are concerned that their private data may not be secure. Zazzle recommends that users be at least 13 years old for their safety, as users younger than that are explicitly forbidden from using the site.
More severe restrictions for the handling of customer data are reflected in the General Data Protection Regulation , and Zazzle's privacy policy reflects these changes.
Moreover, it is upfront about the kind of third companies it may share data with, such as Google Maps for Zazzle package tracking.
Users' accounts are protected in two ways: via SSL encryption and password protection. As a result, Zazzle.com takes precautions to ensure that your data is secure.
Is Zazzle worth it?
Zazzle does not charge its users on a per-use, per-week, per-month, or per-year basis. When people buy from you, all you have to pay for is the cost of goods sold.
After Zazzle deducts the cost of production, you receive 100% of the net proceeds. There is no master list or document detailing Zazzle's product prices, but after you sign up for one of the three accounts, you'll be able to view individual product costs in the "Create a product" section.
Zazzle is a fantastic print-on-demand service where you can upload your designs and have them printed on a variety of things, including posters, clothes, bags, and stickers.
What sets this print-on-demand platform apart from the others described below is its built-in designer, which provides a variety of beautiful templates you may modify to suit your items and then publish with a single click to your seller profile.
Zazzle is one of the best online marketplace that allows users to create their own print on demand business like Redbubble. Zazzle is a great option for those who want to sell unique, custom products.
Read more about Redbubble vs Zazzle.
Zazzle FAQs
And finally, to sum this Zazzle review up, let's go over the most frequently asked questions:
How much can you make on Zazzle?
A lot of print on demand artists have questions; can you make money on Zazzle? Short answer: Yes. The company offers a base royalty rate of 10-15% for most products, with some exceptions. You can also earn royalties on sales of products with your designs through the Zazzle affiliate program. There is no limit to how much you can earn on Zazzle, and the more you promote, the more you can earn. You can also earn bonuses for referrals and for being a top seller.
Where is Zazzle located?
Zazzle is located in the United States. The company was founded in 2005 and is headquartered in Redwood City, California.
Where is Zazzle shipped from?
Zazzle is a print on demand company, meaning that each order is individually manufactured and shipped from their production facilities. They have production facilities located in the United States, Europe, and Asia, which allows them to ship orders to their customers quickly and efficiently.
How to delete Zazzle account?
If you're interested in deleting your Zazzle account, we're here to help. Below, we'll walk you through the steps needed to cancel your account.
Log in to your account on the Zazzle website.
Click on the "My Account" link at the top of the page.
Click on the "Settings" link in the left sidebar.
Scroll down to the bottom of the page and click on the "Cancel Account" button.
Enter your password in the pop-up window to confirm that you want to cancel your account.
Your account will be immediately deleted and you will no longer be able to access your account or any of your designs. If you are wondering how to cancel your Zazzle account, just follow the steps above and you will be able to cancel your account.
Is Zazzle reliable?
Zazzle is a reliable ecommerce platform that has been around for many years. Based on reviews, Zazzle is a reliable site that offers high-quality products and great customer service. There have been some complaints about the site's design and navigation, but overall, users have had positive experiences with the company.
Zazzle also has a robust marketing platform that helps businesses promote their products and reach new customers. Overall, Zazzle is a reliable option for businesses and individuals looking for high-quality custom products.
What is Zazzle black?
Zazzle Black is a premium membership program that offers exclusive benefits to members, including unlimited free standard shipping on orders. The program also offers an unlimited 2-3 days shipping, which gives members the benefit of fast shipping. Zazzle customers remain happy, encourage repeat purchases, and boost the listings' visibility with Zazzle Black.
How to get free shipping on Zazzle?
To get free shipping on Zazzle, simply sign up for a Zazzle black membership. As a member, you'll enjoy free standard shipping on orders anywhere in the U.S., Alaska, and Hawaii.
Conclusion
Moreover, Zazzle has a convenient return policy. They say, you have 30 days to return the merchandise for a replacement or a full refund.
Although Zazzle does not issue Zazzle free shipping codes to either new or existing customers, for less than $10 a year, Zazzle Black members receive unlimited free standard or expedited shipping.
As can be seen in their responses to Zazzle.com evaluations on other sites, Zazzle's customer care is also quite responsive to consumer complaints.
If you're in the market for personalized goods, you may want to check out Zazzle.com or get the free Zazzle app to shop for a wide variety of products.