We are Very Happy to launch our new Credits System on Topbubbleindex.
We believe that the credit system will have a significant impact on the growth of Topbubbleindex and help us reach more people worldwide. We believe that this will also help a lot of people in the long term.
Each referral click earns you 10 credits.
How do you benefit from the credit system?
We (Topbubbleindex) are trying hard to provide the best services in the online business field regarding print on demand applications and tools. Topbubbleindex Automation Software is one of our projects that aims to provide design management and upload automation to Redbubble.
Simply, Our reward credits system will help FREE plan users to be able to boost their upload credit when using the Topbubbleindex-Free version software.
Here is a scenario where you will need reward credits:
This is what the Topbubbleindex-Free version software looked like when you've reached your weekly upload limit of 30 credits.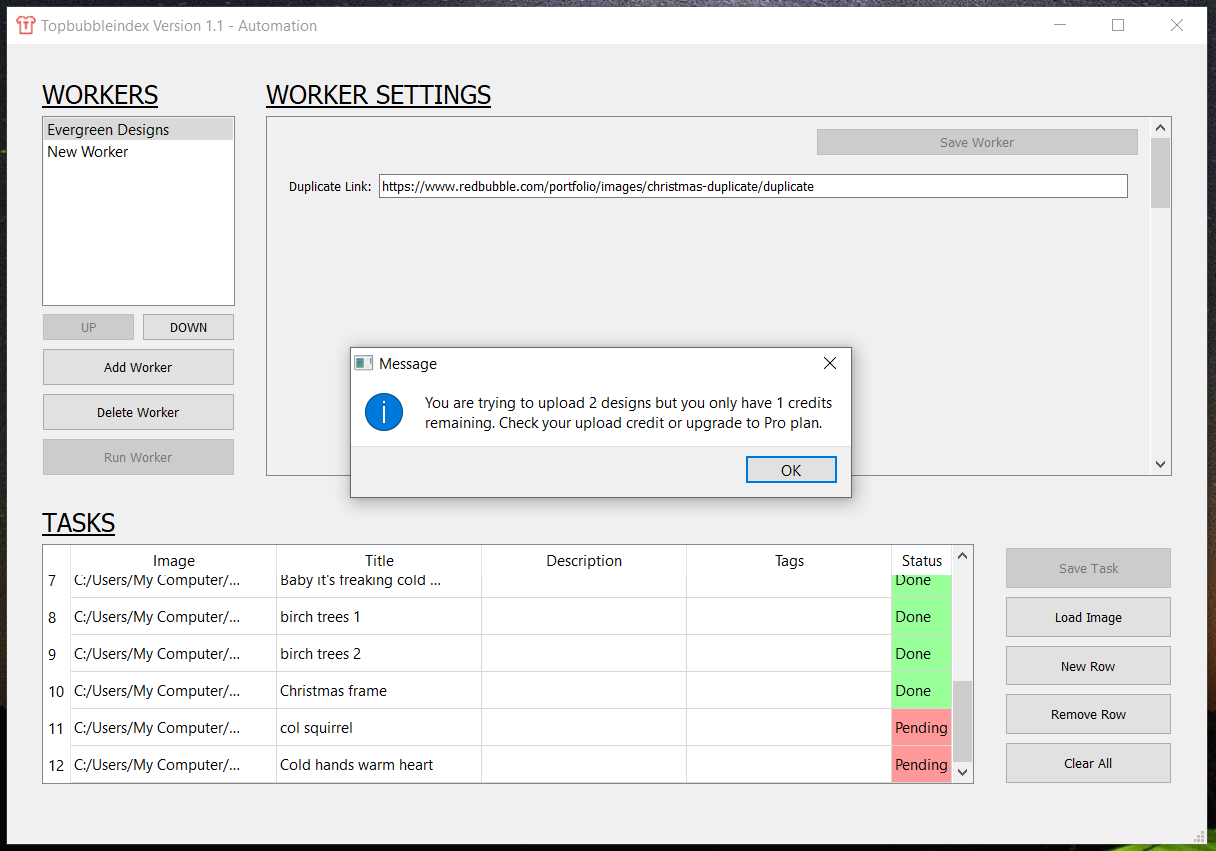 If you check your profile you will see that you are now running out of credits.

If you need more upload credits you will have two options and that is to either wait for the next reset of the upload credit which occurs every sunday weekly or upgrade to a pro plan. Now, this maybe an issue to you if you don't have time to upload manually and needed the automation software to handle the work for you or you don't have a pro plan yet. But with the help of the reward credit system you will have another option on your hand.
How To Earn Reward Credits?
The Good news is you don't need to do anything special to earn credits. When you log in to your account, you will see how many credits you have in the upper corner of the screen.

You can earn reward credits when you refer Topbubbleindex to your friend. How?
Go to your profile settings page, and you will find your referral link, copy it, and share it with your friends! When a person click on your referral link you will automatically gain a reward credit. That's all.
It is that simple!
Anti-Fraud Policy

Our Anti-Fraud policy is direct and concise. All unauthentic traffic is prohibited. If our manual review team or our AI automatically detects any fake referrals or fake behavior, your account will be terminated indefinitely, and you will be permanently banned from the website (you will lose all your credits)
Examples of fake referrals
Repeatedly clicking your own referral link
Use different devices to click your own link
Using a VPN to click your own link
Buying fake traffic from fake traffic sites
Using any software to generate fake clicks to your link
If you read this and you have any doubt, don't hesitate to submit your questions on our contact us page. We are more than happy to help.